Wednesday 16th May 2012 at 6:00am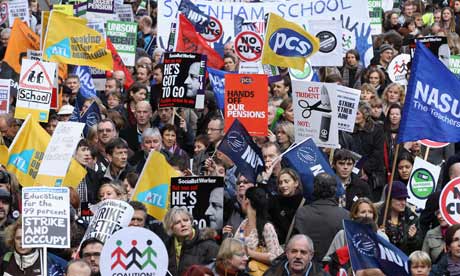 Over the last few weeks, I've been blogging about the Coalition's reforms to the Employment Tribunal system, and how they will change a system which is already weighted in favour of employers. I've suggested that many Claimants' individual complaints would have better outcomes if the workers concerned were to pursue their cases collectively rather than individually.
Today, I wanted to post something on the impact of the Coalition's reforms on trade unions as collective representatives of workers.
My starting point is that the present emphasis on individual representation has all sorts of defects from the perspective of union democracy.
Individual litigation is an altered form of an original dispute between worker and employer. The dispute is taken out of the workplace and put before a Judge, with representatives to speak on behalf of both sides. As the conflict is taken away from the workplace, the opportunities for workplace representatives to control the legal running of a case become dramatically reduced.
There is no union rep watching over the union full-timer when they tell the union's solicitor what the case involves.
No union rep is present when the solicitor advises a client on how to advance their claim – even if (as sometimes happens) the issue is whether to reduce the worker's criticisms of their managers (and de-politicise the claim).
The union rep is not present int he Tribunal when the union's barrister asks questions of witnesses or puts final submissions to the Tribunal.
Many legal representatives would welcome the involvement of trade unionists who know the workplace and the individual managers far better than we do; in practice we rarely, if ever, get the chance to have that dialogue.
Now, seeing the system from the point of view of unions as a whole:
The present system barely keeps unions "in the game" of offering tribunal representation to their members. The reason is that union subs are simply too low to sustain the calls that a union can expect to have made on it.
There are very few unions that charge more than £10 per month or so in subs; and (as I show in my book) there are almost no unions that set aside more than £10 per members per year in their legal budgets (the reason the proportion is low, is that most of what a union does is to operate as a membership and negotiation body; these roles takes the bulk of the funds). This £10 has to cover all the legal services on which a member might call – often personal injury claims, as well sometimes as criminal, copyright or general civil cases.
Even if all of the £10 was set aside for the Tribunal, that would mean that each member was contributing around something like a three-hundredth of the likely cost of representation in a one-day Tribunal claim.
Many unions recruit people on the basis of a promise, sometimes open, sometimes more hinted at than real, that where workers get into difficulty, the union will support them. But the increasing experience of union members is that union are unable to deliver in the promise, and so (as I document in my book) there is a growing tendency for members of union to sue, either because union support has been refused, or sometimes because the union's advice was faulty.
The Coalition reforms are going to exacerbate this problem in two ways:
1) They increase the amount of costs that can be ordered and will make "costs" more pervasive in the system – the last 12 months has seen more EAT decisions on costs than probably the past 5 years altogether – and no doubt this picture will get worse. Undoubtedly, this will put a financial pressure on unions, as the funder of litigation, to settle good cases at an under-value.
2) The amount at which fees have been set is, from the unions' perspective, punitively high. Per case they make Tribunals roughly 3-4 times more expensive than the county courts; and they put the sole burden of paying the fees on one side – the Claimant.
A friend reports a conversation with the head of the legal department at a medium-size white-collar union. The union has a budget, to cover its solicitors' salaries and any other litigation costs, of around £100k per year. On the volume of claims they presently issue (the large majority of which they then settle, quickly): every penny of their present legal budget would be taken up by the hearing fees, not leaving a single penny for retaining an in-house solicitor, or doing any work on the cases once they had been issued.
What will that union do? Stop offering Tribunal representation? Or cut its non-legal budget by more than 10% to make good the shortfall?
There are going to be some very painful discussions taking place in the next few months and years.
Tuesday 15th May 2012 at 5:30am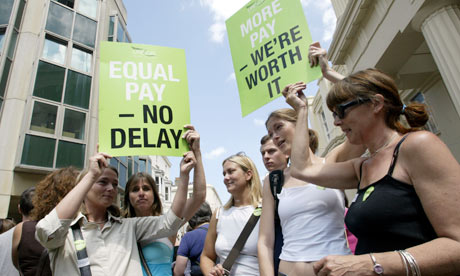 One of the downsides of the trend towards individual litigation rather than collective action, is that it makes unions liable for all sorts of claims – including claims by members who have been refused representation, and claims by members or indeed non-members that the decisions of the union discriminated against them. A recent decision of the Employment Appeal Tribunal, and the last decision of Mr Justice Underhill as President of the EAT, can be understood as "round two" of the equal pay cases brought by Stefan Cross solicitors against the GMB and Unison.
The context is, in brief: during the middle years of the last decade, a number of niche equal pay firms emerged, specialising in claims by workers against local authorities and hospitals. The solicitors were much criticised by trade unions, who argued that they flourished in sectors characterised by high union density (i.e. where pay structures were relatively visible, in contrast, say to banking or finance), and relative pay equality (again, compared to banking), but low resource, i.e. unions insisted that they had negotiated deals in the round, accepting residual inequality, on the basis that this was the best that the employers would offer. For their part, the solicitors criticised the unions, accusing them of signed off pay agreements which discriminated against women.
Inevitably, as tensions rose between the solicitors and the unions, the solicitors shifted tack, and began to sue both the employers and unions for pay inequality – culminating in a decision of the Court of Appeal in 2008 that claims against unions for sex discrimination might be made out (Allen and others v GMB [2008] EWCA Civ 810).
I won't summarise the facts of Allen here, as they are set out in detail at length in my book, save only to note that the union ran a defence that the employer, and not it, should be blamed for pay inequality. And, in circumstances where the union's conduct was less than wholly blameless, this defence failed spectacularly.
This takes us to round two: in a case where a worker sues an employer for a policy which arises from a collective agreement, but the worker does not sue the union (which might be for many reasons: union loyalty, a practical sense of the union's limited resources, or because the member can see that the employer and not the union was the party primarily responsible for the discrimination), or withdraws their claim against the union, can the employer add the union regardless, seeking a contribution from them?
In Brennan & Ors v Sunderland City Council & Ors [2011] UKEAT 0286/11, an equal pay case which the claimants had initially brought both against the employer and the union, and the union had settled, Mr Justice Underhill held that there is no power in the employment statutes for a Respondent to bring a contribution claim.
I can't do justice to Underhill's reasoning, which is both wide ranging and concise, but (in its purest essence) he rejected the employer's arguments i) that the power was implied in the employment statutes or the Civil Liability (Contribution) Act 1978, and that ii) if it was not in the employment statutes, cases of this sort could be brought in any event as satellite litigation in the civil courts system.
Underhill noted that if the case had been determined differently, this could have dramatic consequences for a very wide range of employment cases – not just equal pay claims, or employer-union disputes, but also sorts of cases where an employer sought to pass liability to an employee, a third-party contractor, etc etc.
This was very clearly a high stakes battle (3 QCs and 4 other barristers were engaged by various parties); I doubt the employer's will take even Underhill's elegantly-worded "No" for a final answer.
Friday 27th April 2012 at 6:00am
[from the Union News website]
by Phil Chamberlain
Barrister and author David Renton speaking at Blacklist Support Group meeting. Pic by Phil Chamberlain
A new book by a leading employment barrister calls for debate in the trade union movement about the role of employment tribunals as government changes are expected to make it even tougher for workers to win cases.
David Renton, from Garden Court Chambers, predicts increased industrial action as an already flawed system provides even fewer workers with a place to settle grievances.
Renton was inspired to write Struck Out five years ago, following a speech by Gordon Brown where the then chancellor characterised the system as out of control. Renton says this "rank opportunism", based on a false premise, has allowed the press to print a distorted picture ever since.
Using testimony and official documents the book gives a succinct history of the tribunal system and its current operation. Renton explains its key decisions and punctures the myths around it. In it, and on the accompanying blog, he also charts the impact government changes will have.
"It will be nice to think that workers will think 'we are still suffering injustice but we can't initiate claims so we will do what we say in the book; we will go back and strengthen our unions and where appropriate we will take industrial action', which I very much see as an alternative to the tribunals. But you also need to be realistic. The government's calculation is that the unions are weakened and so people aren't going to properly resist these reforms."
Renton believes that unions have for too long taken up a default position of defending tribunals – because no-one else does – when often they don't serve worker interests.
"I want there to be a policy discussion and a lively debate going on within the trade union movement," he says. "Trade unionists may disagree with parts of the book, but I want people talking and arguing and emerging with a different vision about how things might be. If we don't have that, the press will come up with these lies and there is no alternative vision and the system will get successively reworked in a direction that is hostile to trade unionism."
* Struck Out: Why employment tribunals fail workers and what can be done is published by Pluto Press
Monday 2nd April 2012 at 7:00am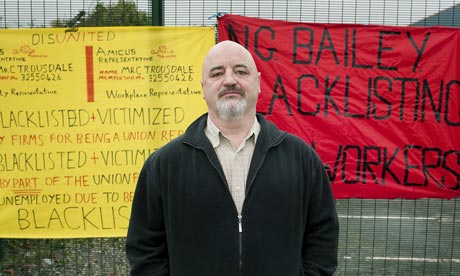 Phase I of the blacklisting litigation, the focus of which has been the Employment Tribunal, is nearing an end. Around thirty blacklisted construction workers have brought claims, principally for unfair dismissal and failures to appoint. There have been roughly 40 or so Respondent companies.
The cases fit into three groups. The first group were issued shortly after the original Information Commissioner's raid on the Consulting Association in February 2009. In autumn 2009 all blacklisting claims were joined before a single judge, Judge Brain, in Manchester. The result was a single, massive CMD in Manchester, with over 50 lawyers (and lay claimants) in a single room. Cases in this group had already been subject to case management. The result was that by the time they came before Judge Brain, there was little for him to do, and these cases were returned to the Tribunals where they had been issued. The standout decision concerned an steel erector Phil Willis, who was found by Ashford ET to have been unlawfully refused employment on grounds of union membership. Willis was awarded £18,375 compensation, including £2,000 for aggravated damages
The second group of cases escaped Manchester ET. Within this group, the standout decision is Smith v Carillion Plc and ors, which has been heavily reported in the popular press, including in the Mirror (here and here), Guardian and Observer. This case is still making its way through the courts, the employers having won at first instance; but further steps are anticipated.
The third group of cases remained in Manchester (the majority were indeed heard by Judge Brain himself); and in almost all of these Tribunal refused jurisdiction to proceed with the claims, essentially because the claimants had delayed on receipt of their Consulting Association files, for periods of between 6 and 13 weeks, before issuing claims. Three of these cases ended up in the EAT: Cullinane v Balfour Beatty Engineering Services Ltd & Anor, Nolan v Balfour Beatty Engineering Services, and Balfour Beatty Engineering Services v Allen.
Legally, the cases in this group cover well-trod ground: they remind us that where a claim is brought of time, the Tribunal must inquire whether the claimant acted reasonably in delaying. A Tribunal claimant, bringing their claim on the basis of newly-acquired information, does not have the benefit of a fresh 3 months, but will have to justify every week and every day they delay before issuing. Certainly, if the fault in delaying is that of the claimant's solicitor (and, it is very clear from these decisions, that many solicitors, both Claimant and Respondent had missed the time point) that will not assist the claimant.
Interestingly, although all these cases involved blacklisting, they generated very little publicity: the papers presumably taking a view that if they made any law, that was law very specifically tied to the time limits issues.
When non-lawyers read about the blacklisting claims, their first question is invariably – how have the companies got away with it so far? (The Phil Willis stands out as one of a very small number of unequivocal victories) There is no real doubt that the practice of holding data about workers because of their trade union activities is unlawful. But its illegality can only give rise to an employment claim if there is an employment law right in which it can be grounded.
It may well be that the cases go on to facilitate the development of human rights law. But, if so, the breakthrough remains to be made.
Wednesday 21st March 2012 at 7:45am
[I'm interested in how the increasing legalisation of employment disputes tends to change the content of the work done by trade union representatives. "Mark", interviewed below, is a GMB rep in a white-collar workplace in central London.]
Tell me about your workplace
There are 550 workers; around 300 are members of the GMB. The union has five representatives; I am the Branch Secretary and Convenor. All our reps do casework. I advise members regularly in informal queries; and I represent in about 5-6 formal cases (disciplinary, grievance, capability, etc) a year.
How long do you spend on casework every year?
When a case is active it can take several hours a week, informal advice is in addition to this. Altogether, I suppose casework takes up about 100-150 hours a year.
What training did you have before you started doing casework? What support can you draw on?
Before I started doing casework, I received training from the GMB region. When I do cases, I always consult LRD publications, always the latest copy. We discuss casework on the branch committee; we couldn't discuss individual cases unless they affected more than worker.
What is the relationship between union reps and officials when doing casework?
I am the members' main point of contact in the early stages of their case. Depending on time limits, the case would be raised with a full time official (FTO) when it reaches (say) the dismissal stage and the member is seeking legal view for a tribunal. If time limits are more pressing it will be passed to a FTO earlier
The fact that a case has been passed to a FTO doesn't mean that we cease to be involved. The FTO is often willing to let the case drop; reps are always pushing for them to take it further and so closely involved
It's the same when the case is passed to a solicitor. It does mean we are not involved in some of the detail. But we remain involved, especially if the solicitor tries to withdraw the union's support for the member. The GMB only takes cases with more than 60% chance of success, so there are often disputes as to whether a member should still be getting support.
Do you know what the time limit is for bringing a Tribunal claim? As far as you know, are there any exceptions to this time limit?
3 months less one day, there can be exceptions in certain circumstances, but I can't recall what they are
Tell me about the most rewarding case you've done
It was about outsourcing and potential redundancy of staff. This was proposed by management and in the following consultation period we conducted a petition of all staff to keep it in house and presented a counter proposal to keep it open with the loss of one person who wanted redundancy anyway. This was accepted by management.
Tell me about the most difficult case you've done
The most difficult case I've ever done was a dismissal for poor performance, which was taken through the employer's capability procedure. It was the first time the procedure we'd negotiated had been used, it was meant to be an alternative to reducing people's pay, as previously poor performers had reduced, or no, pay rise. The ultimate sanction was dismissal, so for it to reach this stage in its first use was hugely disappointing.
The case itself was in our view poor performance due to stress related illness, but the employer did little to acknowledge this and in my view the manager just wanted the member out. Reasonable adjustments were turned down and the slightest error was viewed as failure, even though they acknowledged his performance had improved.
In some ways the member didn't help his case much by saying inappropriate things at meetings, not offensive, just unhelpful things.
The officer attended the final appeal against dismissal and although presented a good case the employer dismissed anyway. The officer privately said he had concerns about this member appearing at a tribunal and I think that paved the way for not getting a legal view
[If any other trade unionists reading this would like to be interviewed for this blog, please email me at david[at]dkrenton.co.uk]
Wednesday 15th February 2012 at 10:28am
I recently represented a trade unionist in a Tribunal claim. Mid-way through the hearing, I received by text solidarity greetings which had been voted through at a union meeting the night before. This was certainly something I have never been sent as a lawyer before. Groups of workers attended the hearing: never less than two or three at a time, on one occasion as many as a dozen people filling the room. Through the hearing I was constantly reminded of the different ways a case will be understood by lawyers and by a political trade unionist.
I have often heard lawyers denigrate trade unionists, including at one training day run by a well-known provider of pro bono representation, where it was said that the widespread use of Tribunals had come about because unions had not taken issues of discrimination seriously. I doubt the speaker had heard of Grunwick, or the Ford equal pay strike. When lawyers run down unions, we reveal ourselves as fools.
In truth, a skilled trade unionist can often do more good for a worker than even the very most brilliant lawyer. Long before a claim is issued, a good union representative may know the company's procedures by heart and be able to spot even relatively minor breaches by the employer. The workplace representative may have lengthy experience of working with a particular manager and have developed the skills to persuade that manager to change his or her mind before a final decision is made. Best of all, she will have access to sources of strength that are wholly closed to the lawyer. For example, there may a group of colleagues who can rally behind the claimant, who could come forward as witnesses to a hearing, or who may even threaten strike action if the company does not back down. The best lawyers win their clients compensation; the best trade unionists save workers' jobs.
A recurring theme of the evidence in our case was the contrast between the sorts of hearings which used to be common at the Tribunal, and the sorts of hearings we often have these days. One witness was a union full-time officer, who described becoming a Tribunal rep for his union in the early 1990s, shortly after taking on a full-time post (and after just five days' training). He was quizzed on the support he had had when he began the job. Union's officials now regularly make calls to a designated solicitor's firm. The officers of the union continue to deal with casework on behalf of their employed members but all their Tribunal representation is farmed out to lawyers. Twelve years ago, the official explained, the situation was different, union officials were solely responsible for hearings and had minimal backup.
The prevalence of professional representation is described in the literature as an "arms race"; employers spend more on representation and claimants retaliate by demanding solicitors rather than union officials, barristers rather than solicitors.
This model serves claimants poorly. The large majority of claimants obtain representation by finding a lawyer willing to act pro bono, or through a union, or via no-win-no-fee agreements, all of which avoid having to pay legal fees up front. Employers have deeper pockets. Their representatives exploit this by over-litigating: demanding Pre-Hearing Reviews with the hope of striking out the claim, but (because the higher courts dislike strike outs at preliminary hearings) in many cases increasing the total cost of litigation. Employers are notoriously weak at controlling their own lawyers' costs, and they blame workers for the total costs of defending each claim (a phenomenon that drives the current government's obsession with reconstructing the Tribunal system as a regime further weighed against claimants).
It has repeatedly been said over the years that Tribunals are intended to be an informal, low-cost system taking an informed and common sense approach to workplace disputes. But any lawyer who practises in both the civil and employment courts will know that the county courts are more practical and less dominated by law.
Returning to the recent case; parts of the hearing were reported in the press. At times, the political nature of the hearing seemed to win us a certain freedom in court. The Tribunal made no attempt to close down lines of questioning, even when they drifted away from the strict issues in the case. It was a scrupulously fair hearing, which at the end we lost.  
After the hearing, the client celebrated his defeat with a three-day party. It was wonderful, and as word spread round, another lawyer wrote to ask me, "what happens when you win?"
Sometimes, in a political case, as my client showed me, winning isn't everything.
(first published in Socialist Lawyer, February 2012)